When I was creating this recipe, I wondered whether to call them muffins or cupcakes.
After all, they are not topped with frosting. However, with the cream cheese center, they feel as indulgent as a cupcake! Whatever you call them, they are definitely a treat.
This keto carrot cake muffins recipe is so easy to whip up. All you need to do is blend up the batter, add it to muffin molds, and top with the cream cheese filling.
I love how the filling sinks into the batter as it bakes! It's much less messy than frosting.
The result is the best combination of spicy carrot cake and rich cheesecake. The textures and flavors balance each other so well.
So whether you would call this a muffin, a cupcake, or something totally different, one thing is for sure. You can call it delicious!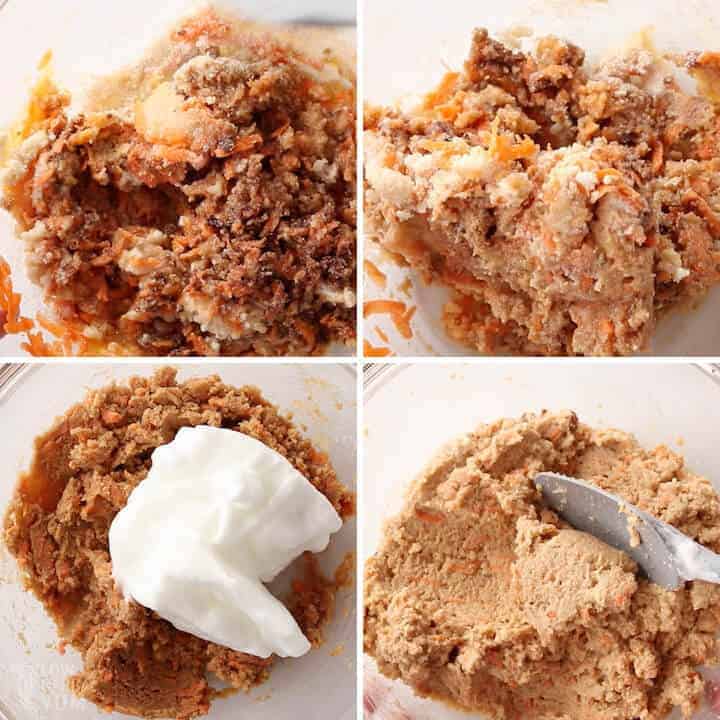 Are they healthy?
Some people hear "carrot" in carrot cake and assume that it's healthier than regular cake. However, the traditional cake is still loaded with sugar and empty carbohydrates.
Thankfully, it's easy to make healthy carrot cake muffins using alternative ingredients.
This recipe still uses carrots, but in a small amount that won't impact the total carbs very much. Next, we replace the traditional flour with almond flour and coconut flour or oat fiber, which are much lower in carbohydrates.
Finally, we'll use a low carb sweetener instead of sugar. This gives us the sweetness we expect in muffins, but without the spike in blood sugar.
We will still use the all spice, cinnamon, and chopped pecans you find in traditional carrot cake. These ingredients are what give this treat a perfect taste and texture!
Cooking time for these keto carrot cake muffins
Depending on your oven, this recipe will take about 20-25 minutes to bake. This is assuming you are using a 12-muffin baking tin.
You want to bake them until the muffin is set and the center is like a baked cheesecake. You don't want to overcook them or they will become dry.
I recommend checking on them at the 20 minute mark and then keeping an eye on the muffins until they are done.
If you are using a muffin-tin that makes 6 or 9 larger muffins, you will need to increase the bake time.
How to make fluffy carrot cake muffins
The key to a fluffy batter is pretty simple. You simply whip the egg whites with cream of tartar!
Once whipped, the stiff egg whites will be full of tiny air bubbles. As you fold them into the rest of the batter, take care not to deflate the egg whites too much.
This is the easiest way to add fluffiness without adding more ingredients.
What about calories?
You will get 12 standard sized muffins from this carrot cake muffins recipe. At this size, each muffin will be about 200 calories.
It's a perfect size for grab and go. It means you can grab one if you just want a quick snack. However, if you're enjoying them as breakfast, you can eat two.